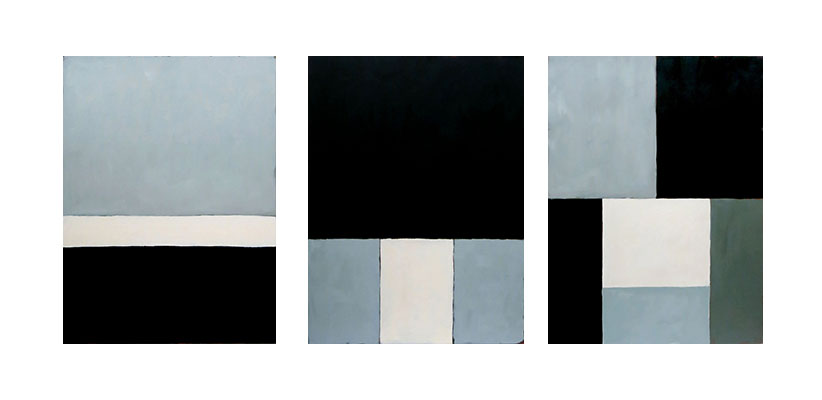 SPACE, STRUCTURES, + ENVIRONMENT
CONTEMPORARY ABSTRACT WORK BY
SUSAN CUTLER TREMAINE + ROBERT MEYER
Join us
Thursday January 23rd
5:30-7:30pm
for the Opening Reception celebrating the latest work by abstract painter
Susan Cutler Tremaine and abstract sculptor Robert Meyer.

Susan Cutler Tremaine, who's visual roots undeniably stem from her
work in architecture and interior design, most recently delves into the
exploration of spaces real and imagined. Her abstracted landscapes
with tones of sea green, sand, blacks, and whites bring a entirely fresh
perspective of the space surrounding us.
Robert Meyer's work is described by Sculpture Magazine as setting "up
a dialog between parts and wholes, masses and volumes, and their
scars…these are works of graphic purity and tactile richness at the
same time…as much as work 'discovers' affinities to nature, to architecture,
to symbol, and to narrative, its most persuasive attribute is its
capacity for touch" His latest sculptures are no exception.
Shown Above:
Susan Cutler Tremaine, (L to R) Breakwater San Sebastián #1, #2 , & #3, Oil on Canvas, 48" x 36" each
Robert Meyer, Intersecting Forms with Sphere #2,  Steel, Waxed Patina,  36" x 10" x 12"